Welcome to Our Bookshop in Tring. We love books and we love book-lovers.

Our shop is welcoming safe space to talk, browse, meet and debate either on the subject of your day or whatever topic is on the mind of our customers when they visit.
We're open 9am to 5pm on Monday to Saturday. And 11am to 1pm on Sunday.
Naturally we can order any book that is in print and have in-store within 24 hours. Please give us a call or get in touch via the form at the bottom of this page.
Regional Finalist INDIE BOOKSHOP OF THE YEAR
We're very proud to have been awarded Regional Finalist in the Indie Bookshop of the Year awards. This is as a result of the amazing efforts of everyone connected to the shop including the staff, our customers and all the lovely authors who have been supporting us throughout this difficult period.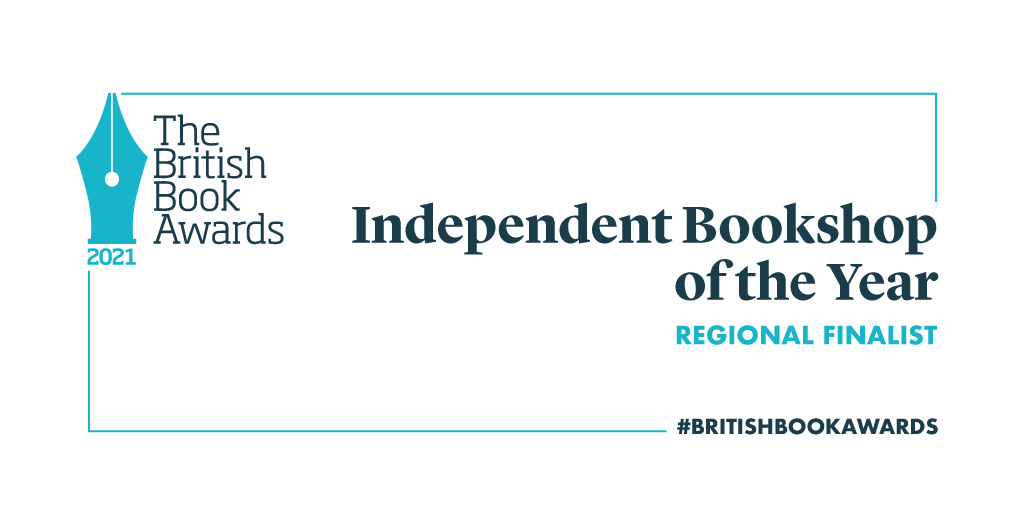 DECEMBER BOOK OF THE MONTH
The Figurine : Escape to Athens and breathe in the sea air in this captivating novel
Our Bookclub Book of the Month for December.
Join the author for our Bookclub Meeting on Monday 8th January.
Feel the sun on your face and the sand of the Aegean islands beneath your feet as you uncover the fate of the Bronze Age figurines in the heart-pounding new novel from the No 1 bestselling author.*When Helena inherits her grandparents' apartment in Athens, she is overwhelmed with memories of the summers she spent there as a child in the 1960s. Her remote, cruel grandfather was a general in the brutal military dictatorship and as she sifts through the dusty rooms, Helena discovers an array of valuable objects and antiquities. How did her grandfather amass such a trove? What human price was paid for them? Helena's desire to find answers dovetails with a growing fascination for archaeology, ignited by a summer spent with volunteers on a dig on an Aegean island.
Their finds fuel her determination to protect the precious fragments recovered from the baked earth – and to understand the origins of her grandfather's collection. Along the way, she falls in love with the narrow streets of Athens and the city's big-hearted residents, who show her the murky underbelly of the antiques world – and help her understand the meaning of home. But can she finally make amends for her grandfather's actions? And what price should be paid for the return of such ancient and beautiful artefacts?
DECEMBER CHILDREN'S BOOK OF THE MONTH
SIGNED COPIES – Whilst Stocks Last

The Christmasaurus is back and ready to soar into a new festive magical adventure!
Have you ever heard of Ebenezer Scrooge? The most miserly, miserable Christmas-hating miser from that very famous old book? The man who is more BAH HUMBUG than HO HO HO?
Well, what if I told you that he was about to step out of HIS story and into this one? And I'm afraid he's got some grand plans . . .
he wants to CANCEL CHRISTMAS! But don't panic – William Trundle and his very best friend, the Christmasaurus, are on the case. They're determined to track down Scrooge and save Christmas from total Scrooge-ification! And they're not alone; the whole Trundle family, William's new friends Eddie and Lucy and, of course, Santa himself are here to help!
Can this Christmas crew stop Scrooge before it's too late and Christmas is BAH HUMBUGGED for good?
Buy the Book – Click Here
As well as the Tring Book Festival in November, we also host all kinds of literary events all year round including author interviews, book launches, children's Storytelling and many other kinds of events.
Click here to visit our Events section.
We host dozens of events every year and most of those are 'hybrid' events in the 300 seat venue next door to Our Bookshop.
The virtual streams of the event are recorded and posted to Our YouTube Channel.
CLICK HERE to visit the YouTube Channel